1491 Appley Beach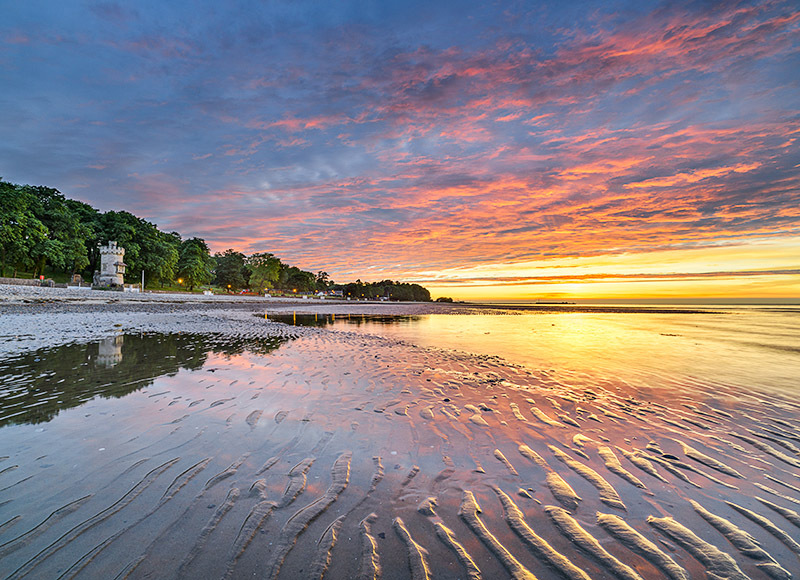 I have photographed this scene various times over the years, being as it is just down the road from me, but never been totally happy with it.

Whenever the conditions look promising I always disappear over the west side of the Island or Sandown, always thinking "I can photograph this anytime."

So when Wayne, the owner of Framers Gallery, came round to show me his new camera, we became so engrossed in gadgety things we forgot to keep an eye on the weather.

Thankfully Sharon had just popped out to water the garden and came running in..."Emergency sunset!!" she exclaimed.

Having been grey all day I certainly wasn't expecting that so Wayne and I threw the gear in his Camper van and we shot down the road.

Before we even stopped I was out of the van and grabbing my gear. "Where are we heading?" asked Wayne but I was already off, sprinting through the trees looking like a manic Guerilla soldier with tripod in hand, as Wayne later described.

Wayne soon caught up with me though (I'm not as fit as I should be!) - "Dont run there!" I screamed - "Footprints - I don't want footprints in the shot!". Wayne obligingly changed course and we made it to the pool gasping for breath and just in time to capture the last of the light.

And it was also a great chance for Wayne to try out his new camera!
| | |
| --- | --- |
| | |